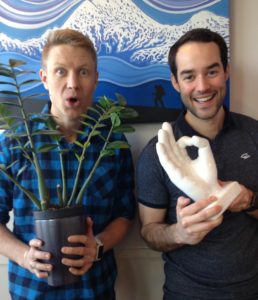 It's already February!  Now that the festivities of closing out 2017 are over, we are looking forward to the new year and all the additions that come along.  So…what's new?
On the chiropractic side of Fit, Dr. Derek and Dr. Simon have been very busy.  To accommodate more appointment options they have opened up more hours for you!  The new office hours are:
Mon-Thurs   9am-6pm
Fri                8am-5pm
Sat               9am-1pm
There are a few more exciting things to come in the following months.  The Fit team will be travelling to Calgary in April to attend the Canadian Chiropractic Association National Convention.  And with the racing season in full swing, Fit will once again be a proud sponsor (and participants) of the Cumby Trail race on May 12th, as well as the Shoreline TriK taking place on May27th.
Our resident Naturopath, Dr. Dave has extended his prolotherapy practice to include cosmetic PRP.  For more detailed information on this procedure, please take some time and visit www.drdavidmilanovich.com