Registered Massage Therapy
Massage therapy is manual manipulation of soft body tissues (muscle, connective tissue, tendons and ligaments) to enhance a person's health and well-being. There are dozens of types of massage therapy methods (also called modalities).
People seek massage therapy for a variety of reasons – to reduce stress and anxiety, relax muscles, rehabilitate injuries, reduce pain, and promote overall health and wellness. The therapists at fit chiropractic are not the relaxation massage type; you are not going to get a soft hands or sleepy rub down (though there is a time and place for that) – you are going to get attention to detail in bringing your concerns forward and working through to a solution.
Rehabilitative massage – also known as deep tissue, medical, therapeutic or clinical massage; practiced in many settings.
Functional Mobility Assessment and Treatment – Using assessment tools to determine restrictions in normal joint mobility and giving guidance to help increase passive and active range of motion.
Chiropractic Services
Simon, Derek and Caeden bring a unique approach to the chiropractic profession. With post-graduate certifications in multiple soft-tissue modalities along with a patient-centered approach to care, they like to work with the patient to get the most out of treatment. 
Success for us is defined as treating an injury or condition with every tool we have to resolve the issue as quick as humanly possible. We pride ourselves in having a high success rate of positive response to treatment and further improvements in patient performance. 

Active Release Technique (A.R.T.)
ART is a patented and dynamic, soft tissue system that treats problems with muscles, tendons, ligaments, fascia and nerves. Headaches, back pain, carpal tunnel syndrome, shin splints, shoulder pain, sciatica, plantar fasciitis, knee problems, and tennis elbow are just a few of the many conditions that can be resolved with ART. These conditions all have one important thing in common: they often result from injury to over-used muscles.
Soft Tissue Injuries Occur By:
Acute injuries (tears, trauma, pulls, etc)
Accumulation of micro tears
Not getting enough blood supply and oxygen (hypoxia)
Each of these factors can cause your body to produce tough, dense scar tissue in the affected area. This scar tissue binds up and ties down tissues that need to move freely. As scar tissue builds up, muscles become shorter and weaker, tension and tendons cause tendonosis, and nerves become pinched. This can cause reduced range of motion, loss of strength, and pain.  If a nerve is trapped you may also feel tingling, numbness, and weakness.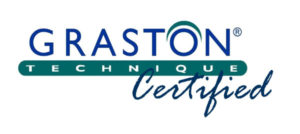 Graston Technique ®  *Instrument assisted
The Graston Technique incorporates a patented form of instrument-assisted soft tissue mobilization that enables clinicians to detect and treat scar tissue and restrictions that affect normal function.
Soft tissue changes include:
Separates and breaks down collagen cross-links, stretches connective tissue and muscle fibres
Increases skin temperature facilitates reflex changes in the chronic muscle holding pattern
Alters spinal reflux activity (facilitated segment)
Increases the rate and amount of blood flow to and from the area
Laser Therapy
Low Intensity Laser Therapy is a highly effective, non-toxic and non-invasive therapy that uses light energy from superluminous and laser diodes. The light particles are absorbed by cells in your body where the light energy turns into biochemical energy. This energy helps the body's cells work faster in order to repair and regenerate itself. The therapeutic light beam safely penetrates deep into tissues. Symptoms disappear and normal cell function is restored.
What are the effects of laser therapy?
Increases ATP levels which increases cell energy
Modulates white blood cells to improve immune function
Helps DNA production and cell division to speed up healing
Promotes collagen synthesis to strengthen muscles, tendons, and ligaments
Drains lymph to reduce swelling
Promotes creation of new blood vessels which improves circulation
Reduces inflammation to speed up recovery
Reduces formation of fibrous tissue and scar tissue.
Team Support and Educational Talks
Dr. Vinge is available to support your team, organization, or association. He has training in sports-medicine emergency and performance enhancing therapies.   In addition, he is available to give educational talks on a multitude of topics including; prevention of running injuries, workplace ergonomics/lifting safety, proper walking/running gait, nutritional supplementation, and many more.